The Christ Child Society provides clothing to infants and children from financially challenged families living in Saint Joseph County, Indiana.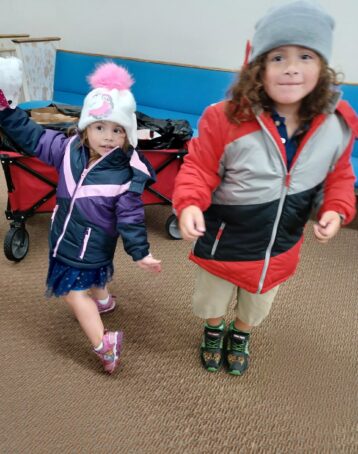 Clothing for Children
Qualifying children ages 1 through 14 can receive NEW winter outfits from the Christ Child Clothing Center. Please note, we do not provide school supplies or diapers. Each child will also receive a packet of dental supplies and a book.
Families wishing to get clothing MUST have a Referral Form from one of the Referral Agencies and Schools that partner with the Christ Child Society and the proper paperwork.
More about the Clothing Program
More about the Dental Health Program
Layettes for Newborns
A layette is a set of clothing and essential items for a newborn, and are available to mothers living at or below 150% of poverty level who give birth at Saint Joseph Health System, Mishawaka Medical Center, and Memorial Hospital.  If you and your baby qualify and did not receive a layette at the hospital, please contact one of our referral agencies for a referral, then bring it to the Clothing Center along with your child's birth certificate and your own ID, to receive one.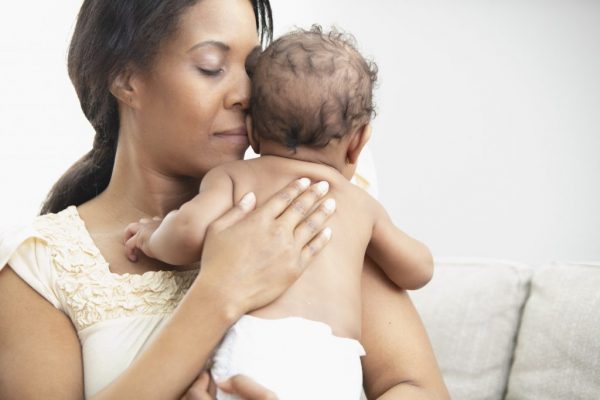 Referrals and Required Paperwork
You must bring the following items with you when you come to receive clothing:
Signed and dated Referral Form from one our partnering social service agencies, schools or churches.
Photo ID of parent/guardian (like a driver's license).
If you have never received clothing from us in the past OR you have a new child, you must also bring
Birth certificate for each (new) child listed on the form.
If you have received clothing from us in the past, you do not need birth certificates for any child who is on your form that has received clothing from us before. If you have the yellow Christ Child Card, however, please bring it.
Any children on the referral form who have NOT received clothing from us before will need a birth certificate brought to the Clothing Center.
What to Expect
at the Clothing Center
Numbers are given out on
Wednesdays from 8:30 AM until 10:30 AM
Select Thursdays from 4:30 PM to 6 PM
Select Sundays from 1 PM to 2:30 PM
on a first come first serve basis. "Saving places" in line is discouraged. No numbers will be given out after the end time listed above. At the time numbers are given, you will be asked if you brought your referral form and proper paper work. We don't want you waiting in line if you don't have what you need. Often when that happens, a client will run home to get what they need and return to get a number.
You will be called by number to meet with an interviewer. The interviewer will verify your referral form information and review your children's sizes.
Orders are filled by Christ Child volunteers in each department. Once they are ready, you will be given a wagon to move between the different clothing departments and pick up your family's order.  We encourage you to look at the sizes to see if they will fit, and if your child is there, have them try on their coats and shoes so that exchanges for size can be made right then.
Once you have received all clothing/shoes, you may choose a book for each child, and your order will be verified by a Christ Child volunteer. We provide a drive up service for loading your bags, so you don't need to juggle bags and children through the parking lot.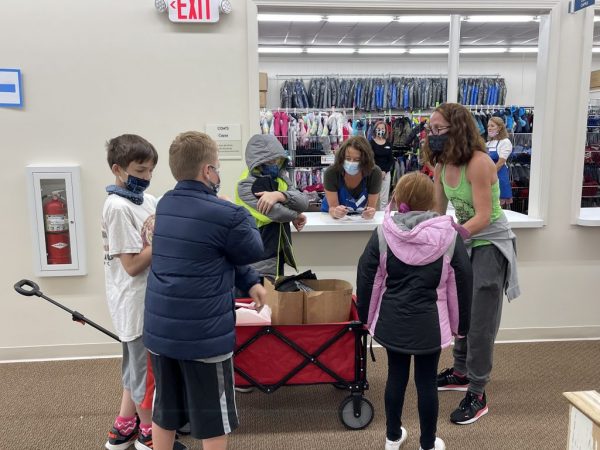 Exchanges
If an item does not fit your child, you may return it during our regular client hours to exchange it for the proper size.
You do not need another referral to exchange an item. You do not need to take a number. Go to the front door and let a volunteer know you are there for an exchange.
The item must be returned in NEW condition: it needs to have tags intact and may not have been worn.