Clothing Program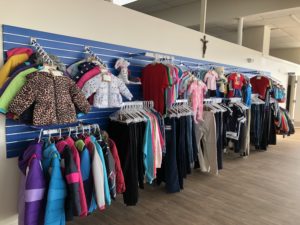 The Christ Child Society's Clothing Center in Mishawaka is unique in the Michiana area. Every year over 3,500 children in need receive new wardrobes, regardless of race, gender, or creed. This service is offered for children ranging in ages from birth through twelve years.
Clothing is distributed from August until Early December. The Clothing Center, located at 2366 Miracle Lane, Mishawaka, IN 46545 is open Wednesday mornings at 8:30. Numbers are distributed until 10am and select Thursday and Sunday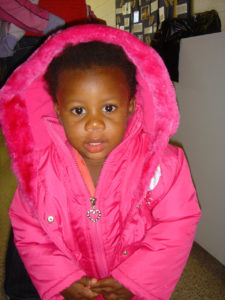 afternoons (see calendar for dates/times). Dedicated volunteers staff the Center. There are two paid employees (our administrative assistant and custodian) and no government funds are used to purchase the new clothing. Click here for the 2021 Christ Child Client Calendar dates.
Clients are assisted on a first come first served basis, and must present a signed referral letter from one of the approved social service agencies in St. Joseph County. Click here for a list of Christ Child Referral Agencies 2021.
Clients must also present an official photo ID (like a driver's license) for the parent/guardian, and new clients are requested to bring birth certificates for any children listed on the referral form.
After an interview to determine sizes, parents receive a bag of new clothing for each child. New outfits for children ages 1 through 13 consist of:
Toddlers
Blanket Sleeper or pajamas
Toddler 2 piece outfit
7 pairs of underwear (if needed)
7 pairs of socks
Athletic shoes
Winter Coat, Hat & Mittens
Stuffed animal
Older children through age 13
Winter Coat, Hat & Gloves
Athletic shoes
7 pairs of socks
7 pairs of underwear
T-shirt and Jeans or Leggings or Joggers OR
Uniform pants and shirt
Sweatshirt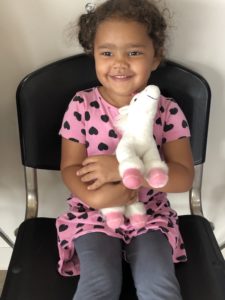 An outfit of gently used play clothing, or perhaps something more dressy, is also offered. Families qualify for this service once each year.
Want to Volunteer at the Clothing Center?
Are you a student in need of service hours? An adult with extra time on your hands?
Contact our COMMUNITY VOLUNTEER COORDINATOR:
Suzanne Wiwi at info@www.christchildsb.org or leave a message for her at 574-288-6028.
Pictures from Around the Center